Parking and Directions - Community Music School
Parking and Directions
THE FOLLOWING INFORMATION IS FOR COMMUNITY MUSIC SCHOOL REGISTRANTS
For general Appalachian State University parking information, see parking.appstate.edu.
Broyhill Music Center (Community Music School)
Address: 813 Rivers St, Boone, NC 28608
Free Ways to Get to Campus:
You can park briefly in the Broyhill circle (flashers on) to drop off a student. For minors, an adult will need to walk the student to and from their class for check-in and check-out.

We are on the AppalCart route! Taking the bus to campus from another location is free of charge. We are a 2 minute walk from the ASU Peacock Traffic Light stop, a 4 minute walk from the ASU Peacock Circle stop, and a 7 minute walk from the ASU College Street Station. Please allow extra time to get to your lesson or class. See routes and schedules here: https://www.appalcart.com/route-maps-and-schedules
NEW: Parking Pass Information
As of Fall 2023, there is now a charge for parking between 7am and 7pm on weekdays at Appalachian State University.
For visitors who do not already have an App State parking pass, a visitor parking pass can be purchased in their Community Music School registration form.

7am-7pm visitor parking pass - $25/month
5pm-7pm visitor parking pass - $10/month

These semester visitor passes allow the holder to park in any University-owned surface lot, including the lots around the Broyhill Music Center, any weekday of the specified month(s) except for football game days.
The Community Music School does not make money from parking passes. We are not able to cover these through tuition assistance towards lessons or classes.
Please contact Katie Jensen at (828) 262-6568 with questions about the parking passes.
How to pick up your parking pass:
It will take a separate trip off campus to pick up your pass. After you purchase a parking pass, but before your first class, please pick it up from the Office of Conference and Event Services (2nd floor, 400 University Hall Drive, Boone, NC 28607). Passes can be picked up anytime between 8 am - 5 pm Monday - Friday. If you have questions about picking up the parking passes, please call Katie Jensen at (828) 262-6568.
Where to Park
Broyhill parking lot (yellow star), which is directly in front of the Broyhill Music Center
Schaefer parking lot (blue star), which is directly beside the Broyhill Music Center, in front of the Schaefer Center for the Performing Arts
Peacock parking lot (green star) which is across the street from the Broyhill Music Center.
Upper lot behind the Broyhill Music Center (to the left of the building on the map), which is accessible from Bodenheimer Drive.
Community Music School private lessons will be on the 4th floor of the Broyhill Music Center in practice rooms 430, 432, and 434 unless otherwise specified. To reach the private lesson rooms...
From the first floor: Go up the elevator to the 4th floor, turn left and walk past the sofa area, then turn right. A CMS employee will be there to welcome you.
From the fourth floor: Enter from the door near the emergency phone post, furthest from the parking lot entrance. The CMS private lesson rooms will be in front of you.
If your private lesson is in a professor's office, they will share the room number wih you before the lesson.
For group classes, each participant/family will receive an email with the room number. Please come into the building to check your child in and out of their class.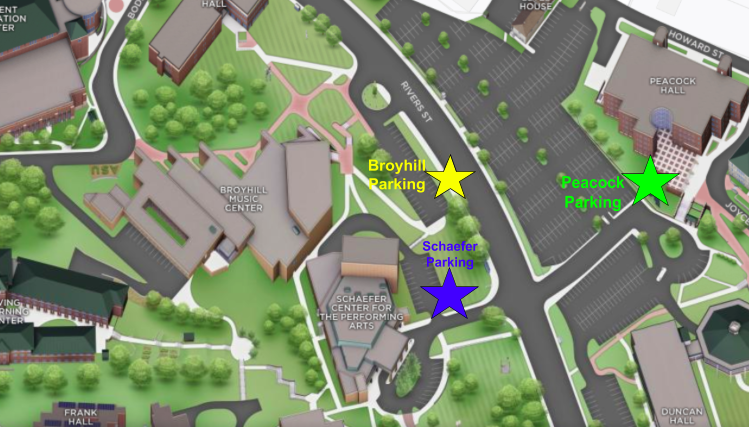 The Broyhill Music Center is located near the end of Rivers Street, located between the Schaefer Center of the Performing Arts and Walker Hall. If you turn past the Convocation Center to get on Rivers Street, the Broyhill Music Center will be on the left. Click here to view a map.
The HUB Station Arts Center
Address: 145 Cedar Valley Road, Hudson, NC 28638
Please come into the building to check your child in and out of their class. HUB Station parking is free. Directions to your class will be sent in your confirmation email upon registration.