Facilities
Broyhill Music Center
Home of the Hayes School of Music
The 90,000+ square foot building, located in the fine arts complex on Rivers street, was constructed with acoustics influencing all aspects of the design from choice of materials to the shapes of interior walls.
The architects took advantage of the hilly terrain, designing the facility to "climb" the hill in steps so that most of the building is on ground level, cutting down on the amount of sound proofing needed between floors.
The foundation and frame are concrete rather than less sound absorbent steel. Interior walls are doubled and packed with kiln-fired sand. Walls rest on neoprene (soft vinyl) cushions, reducing unwanted vibrations through the concrete walls.
The outside of each interior wall is treated with sound-resistant materials. The double gypsum board ceilings are heavily insulated and have been hung with acoustically designed rubber isolators to keep sound from being transmitted between floors where rooms are constructed above other rooms. This feature also controls the sounds within a room.
The Broyhill Music Center includes two performance halls, a state of the art recording studio, an opera studio, a computer lab, a piano lab, a 5,000 square foot music library, an instrumental rehearsal hall, a choral rehearsal hall, small ensemble rehearsal rooms, more than 30 offices and over 50 practice rooms with pianos.
Floors in all of the teaching studios are doubled and the top finished floor is jacked up with rubber sound isolators between the two layers.
In the performance spaces - the 125 seat Schaffel Recital Hall and the 440 seat Rosen Concert Hall - special treatment adds to the acoustical perfection.
Rosen Concert Hall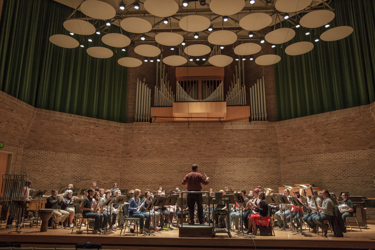 With a seating capacity of 440, the Rosen Concert Hall is the principal performing area of the Hayes School of Music. Designed specifically for concerts and recitals the stage area has a capacity for large ensembles, yet is well suited for the solo performer. The acoustical "clouds" over the stage area also contain stage lighting. Facilities for recording are controlled from stage-sight booth. Upholstered individual seats are arranged in a continental manner. The hall is resonant, and, with the touch of a switch, the reverberation time may be adjusted from 1.9 to 2.9 seconds. The computer-designed angles of each surface distribute sound evenly for every listener.