Procedures
Students share their homework findings about "what bluegrass music is."
View photos of various bluegrass musicians/family bands. Discuss the various settings of the performances and the recording sessions. The instruments are important and can be considered one of the major components of bluegrass, as we have heard in the McLain's music.
Review information about Bill Monroe, the "father of bluegrass," and the instruments in his band.
Then introduce the Carters and the instruments/playing style in their band. Before bluegrass music, people sang and played some of the same songs, but didn't use the mandolin or the banjo. They did use the autoharp and the guitar, as well as a mouth instrument called the Jews harp. Their style is now called "Old Time" music.
Teach the refrain and lead students in singing the refrain of Will the Circle Be Unbroken with the recording (DLA).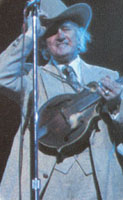 Refrain:
Will the circle be unbroken, by and by Lord, by and by
There's a better home awaitin' in the sky Lord, in the sky.
Will the Circle Be Unbroken is one of the Carter family's most famous Old Time songs, and tells about the importance of the family in their religious faith, now and even in heaven "at the throne".
At the same time that the Carter family began traveling and recording their Old Time music, Bill Monroe and his Bluegrass band The Bluegrass Boys were traveling, recording and becoming known for the Bluegrass sound. As the two styles separated, many other family bands, continued in both traditions. Doc Watson and his son Merle Watson continued in the Old Time tradition, and new bands such as Nickel Creek have continued in the bluegrass tradition, even creating new sounds with their bluegrass instruments.
Compare the old time song The Fox as sung by Dave Couch in this recording from 1955 with Nickel Creek's recent version of the song.
What has changed? Encourage students to identify specific musical instruments, musical elements, such as syncopation, tempos, phrasing and singing style in musical terminology.
Bill Monroe's Bluegrass Sound
Bill Monroe used an instrument called mandolin and sung using the mandolin as his accompaniment. His Uncle Pen played fiddle and a family friend Arnold Schultz taught him some blues sounds on the guitar. These people taught him and influenced the way Monroe played his mandolin, differently from the quieter, parlor songs used in the past.