Locations - Community Music School
Broyhill Music Center
Address: 813 Rivers St, Boone, NC 28608
The Broyhill Music Center is located near the end of Rivers Street, located between the Schaefer Center of the Performing Arts and Walker Hall. If you turn past the Convocation Center to get on Rivers Street, the Broyhill Music Center will be on the left. Click here to view a map.
Private lessons will be on the 4th floor of the Broyhill Music Center in practice rooms 430, 432, and 434 unless otherwise specified. To reach the private lesson rooms, go up the elevator, turn left and walk past the sofas, then turn right. A CMS employee will be there to welcome you.
For group classes, each participant/family will receive an email with the room number.
Broyhill Music Center Parking Instructions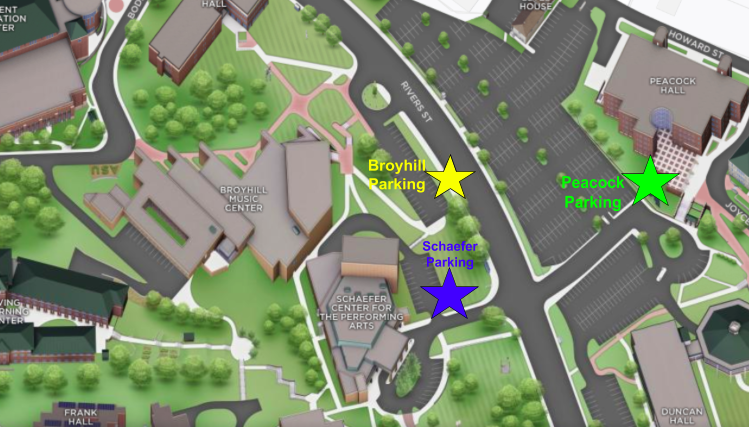 On campus parking is free to the public after 5 p.m. You will be able to park in the following lots:
Broyhill parking lot (yellow star), which is directly in front of the Broyhill Music Center,
Schaefer parking lot (blue star), which is directly beside the Broyhill Music Center, in front of the Schaefer Center for the Performing Arts
Peacock parking lot (green star) which is across the street from the Broyhill Music Center.
Click here to view another map.
Parking on campus before 5:00 requires a visitor parking pass ($46/semester). If you have purchased a visitor parking pass in registration, please pick it up at the Office of Conference and Event Services prior to your first class.
Conference and Event Services is located on the 2nd floor of 400 University Hall Drive, Boone, NC 28607.
The HUB Station Arts Center
Address: 145 Cedar Valley Road, Hudson, NC 28638