String Pedagogy and Practice for the Classroom and Private studio: A Two-Day String Workshop
Appalachian State University with Bob & Pam Phillips
Friday, Nov. 11th & Saturday, Nov. 12th, 2016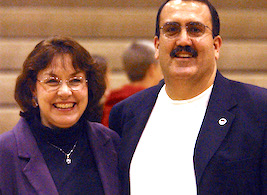 To register for this workshop, click here.
Bob and Pam Phillips offer motivational and innovative educational programs for string teachers and students all around the country. Bob Phillips is recognized as an expert in all aspects of string education and has achieved national renown as a composer, string pedagogue, conductor, and string editor for Alfred Publishing. Pam Phillips wears many hats serving as a producer, manager, assistant teacher and consultant. Bob brings a wealth of knowledge and a sense of humor to his workshops, clinics, and guest conducting.
Appalachian State University's Hayes School of Music, Alfred Publishing Company, and the NC Chapter of ASTA co-sponsor Bob and Pam's Two-Day String Pedagogy Workshop on Friday, Nov. 11th and Saturday Nov. 12th, 2016. Session topics include: an overview of music industry and educational composing, classroom communication skills (modeling, tempo of presentation, sequencing, eye contact, and humor), teaching fiddling, jazz, and improvisation, and strategies for recruiting strings, etc. There will be plenty of information for the non-string playing player who finds themselves teaching strings also.
Learn more