Black History Month Concerts
Program 3: February 20, 6pm

Blue/s Forms (1979), by Coleridge-Taylor Perkinson (1932-2004)
I. Plain Blue/s
II. Just Blue/s
III. Jettin' Blue/s
Performer: Nancy Bargerstock, violin
"Bad Man" (1927), by Langston Hughes (1901-1967)
"Crowing Hen Blues" (1947)
"Harlem" (1951)
"Dream Boogie" (1951)
Performer: Leonardo Flores, reader
Palm Leaf Rag (1903), by Scott Joplin (c. 1868-1917)
Weaping Willow (1903), by Scott Joplin
Black Bottom Stomp (1938), by Jelly Roll Morton (1890-1941)
Performer: Bair Shagdaron, piano
"Jazz Fan Looks Back" (2002), by Jayne Cortez (1934-2012)
"Don't Ask/1980" (2009)
"The Oppressionists" (2009)
Performer: Leonardo Flores, reader
Dear Lord, by John Coltrane (1926-1967)
Criss-Cross, by Thelonious Monk (1917-1982)
A Bientot, by Billy Taylor (1921-2010)
Alligator Bogaloo, by Lou Donaldson (b. 1926)
Performers:
Todd Wright, saxophone
Andy Page, guitar
Adam Booker, bass
Rick Dilling, drums
Composers:
John Coltrane (1926-1967)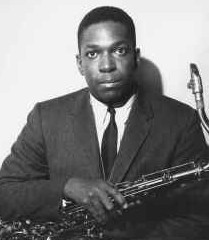 The towering genius of bebop and hardbop, John Coltrane was born to a religious family in Hamlet, near High Point, North Carolina. Coltrane's career was incredibly varied: A side man in groups led by Miles Davis and Thelonius Monk, and as a leader throughout the 1960s, with breakthrough albums such as "A Love Supreme." After the furious creativity of the 1950s passed into a new decade, Coltrane experienced a profound religious conversion, leading to an equally profound shift in the music. His music became more experimental, working with such avant garde musicians as Ornette Coleman, Pharoah Sanders, John Gilmore and Eric Dolphy. Along with his interest in "new thing" jazz, he balanced his musical interests by continuing to record in a more standard jazz framework. Coltrane died too young, in 1967, aged 40.
Lou Donaldson (b.1926)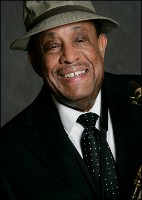 Jazz critics agree that "Sweet Poppa Lou" Donaldson is one of the greatest alto saxophonists of all time. He began his career as a bandleader with Blue Note Records in 1952 and, already at age 25, he had found his sound, though it would continue to sweeten over the years — earning him his famed nickname –"Sweet Poppa Lou." 1967 was marked by one of his most famous recordings, Alligator Bogaloo. Lou was awarded an honorary Doctorate of Letters by North Carolina A & T University and a scholarship was established in his name that is awarded to the most gifted jazz musician at North Carolina A & T University each year. He was inducted into the International Jazz Hall of Fame, is an NEA Jazz Master – our nation's highest award bestowed upon jazz artists, and is the recipient of countless other honors and awards for his outstanding contributions to jazz, America's "classical music."
Lou was born in Badin, North Carolina on November 1, 1926 — the second of 4 children. He matriculated to North Carolina A& T College at age 15 where he received a Bachelor of Science degree. After being drafted into the US Navy in 1945, Lou played in the Great Lakes Navy Band where, when playing clarinet for dances, he would also play the alto saxophone. After going into Chicago several times, he heard of Charlie Parker and, after checking him out, decided that this was the style of playing he would make his own. (Source: loudonaldson.com)
Scott Joplin (c. 1868-1917)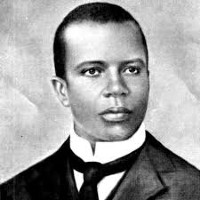 Scott Joplin was born around Texarkana, Texas, the son of a former slave. Probably the best-known composer of ragtime, Joplin was ambitious, professionally. He was driven to find a publisher of his many compositions and ended his career by composing a large-scale ragtime opera, Treemonisha. His music finds its place on any pianists' bookshelf and retains the antique charm and aroma of a simpler day, the composer treating us with ragtime compositions on themes as varied as pineapples, flowers, syncopations, and solace.
Thelonious Monk (1917-1982)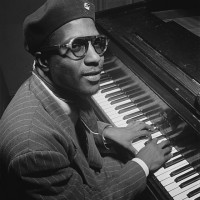 Born in Rocky Mount, North Carolina, Thelonius Sphere Monk learned how to play "stride" piano when just a little boy. . By age 6, Monk's family had moved to New York City, where he received classical training, at least until his late teens, when his gifts as a jazz musician shifted his efforts toward playing gigs. After a stint as a gospel player, Monk took up residence at Minton's Playhouse, a hotbed for early bebop music. It was at Minton's that the musician crafted his unique sound; polymetric, hard-swinging left hand with a right hand that seemed to stab at the instrument, hesitating, then moving ahead with flourishes reminiscent of the great stride players from decades prior. With works like "Round Midnight," and "Straight, No Chaser," Monk was decidedly forward-looking; creating a set of bebop standards that were instant classics, adopted by other players for their sets and recreated almost endlessly in every imaginable combination of jazz instrumentation.
Jelly Roll Morton (1890-1941)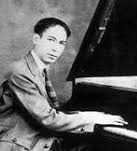 Born Ferdinand LaMothe to Creole parents in New Orleans, "Jelly Roll" Morton possessed a unique musical gift, both as a virtuoso pianist and prolific composer. His last name was adopted by him based on his step father's. Toward the end of his life, many of his compositions would be recorded by the pioneering chronicler of American Roots music, Alan Lomax. Morton possessed an outsize personality, even bragging to anyone who would listen that he "invented jazz." Despite the extravagance of that claim, Morton did figure prominently at the traditional birthplace of jazz, Storyville, that famous New Orleans district of speakeasies, bordellos, Creole culture and music. In addition to dazzling compositions for the piano, Morton also recorded extensively with his band, The Chili Peppers. His rather peripatetic existence brought him to stints in California, Chicago, Washington DC and finally, New York City, where he struggled to make ends meet, despite his considerable reputation and boundless energy. Whether he "invented" jazz or not, there is hardly a figure in that genre who has been the subject of more scholarly research than the composer of King Porter Stomp, Jelly Roll Morton.
Coleridge-Taylor Perkinson (1932-2004)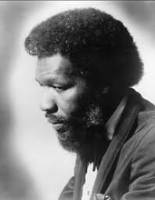 Coleridge-Taylor Perkinson lived a remarkable and varied life as a composing and performing musician. Like many black musicians coming of age in the 1940s and 50s, his family divided their time between the south (North Carolina) and larger cities in the north. Perkinson's musical life began as a boy soprano in New York City, a member of Robert Craft's choir dedicated to the performance and recording of the music of Igor Stravinsky. This very challenging start to his musical life conditioned the composer for a life of struggle and accomplishment. Both a jazz musician and a serious classical composer, Perkinson studied conducting at the Mozarteum in Salzburg, returning to New York to compose and conduct as well as sit in at the piano in some of Greenwich Village's most lively jazz clubs. Years in California followed, where he scored for both movies and television. Throughout a busy life, the composer produced a robust catalog of disciplined and powerfully-felt instrumental and vocal compositions. Here, the struggle and dynamism of the 1960s racial justice movement comes through in the music, which by turns can both thunder and lament, using the Negro Spiritual as source material.
Billy Taylor (1921-2010)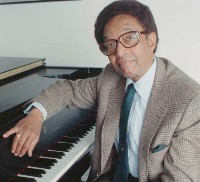 Pianist, composer, and recording artist Billy Taylor was born in Greenville, North Carolina in 1921, to a dentist father and schoolteacher mother. Taylor moved to New York City in 1944, eventually becoming the house pianist at the legendary Birdland jazz club, where played alongside musical greats such as Charlie Parker, Dizzy Gillespie, and Miles Davis. Taylor continued on in the New York circuits, until the 1950s, when he began to lead and record with his own trio. Taylor entered the realm of television in the 1970s, when he took on the role of musical director for The David Frost Show. He was also the musical director for Tony Brown's Black Journal Tonight, and hosted his own jazz piano show on the Bravo network called Jazz Counterpoint. Taylor hosted a variety of radio both locally in New York, and syndicated nationally by National Public Radio, including CBS Sunday Morning in the early 1980s.
Recipient of numerous awards and appointments throughout his career, Taylor became one of only three jazz musicians at the time to be appointed to the National Council of the Arts. In addition to serving on the National Council of the Arts, Taylor was also appointed the artistic advisor on jazz for the Kennedy Center for the Performing Arts, where he developed a run of widely acclaimed series, including the Louis Armstrong Legacy series, and the annual Mary Lou Williams Women in Jazz Festival.For his performances and professional activities, Taylor received two Peabody Awards; an Emmy; a Grammy; and a place in the Hall of Fame for the International Association of Jazz Educators. Taylor graduated from Virginia State College in 1942 with his B.A. degree in Music. He received his Masters and Doctorate degrees in Music Education from the University of Massachusetts at Amherst, and went on to serve as the Duke Ellington Fellow at Yale University. Subsequent to these academic achievements, Taylor received several honorary doctoral degrees over the course of his career. Taylor passed away on December 28, 2010. (Source: blackpast.org)
Jayne Cortez (1934-2012)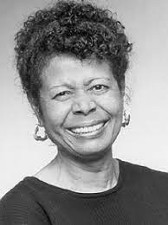 Poet and performance artist Jayne Cortez was born on May 10, 1934, in Fort Huachuca, Arizona.
Her work has been translated into twenty-eight languages. Cortez has also released a number of recordings, many with her band The Firespitters, including Taking the Blues Back Home (1997), Cheerful & Optimistic (1994), Everywhere Drums (1991), and Maintain Control (1986).
In 1964, she founded the Watts Repertory Company, and in 1972, she formed her own publishing company, Bola Press. Her awards include fellowships from the National Endowment for the Arts and the New York Foundation for the Arts, the International African Festival Award, and the American Book Award. Cortez performed, lectured, and taught at many universities, museums, and festivals. She lived in Dakar, Senegal, and New York City. She died on December 28, 2012. (Source: Poets.org)
Langston Hughes (1901-1967)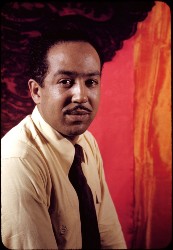 Langston Hughes was a central figure in the Harlem Renaissance, the flowering of black intellectual, literary, and artistic life that took place in the 1920s in a number of American cities, particularly Harlem. A major poet, Hughes also wrote novels, short stories, essays, and plays. He sought to honestly portray the joys and hardships of working-class black lives, avoiding both sentimental idealization and negative stereotypes. As he wrote in his essay "The Negro Artist and the Racial Mountain," "We younger Negro artists who create now intend to express our individual dark-skinned selves without fear or shame. If white people are pleased we are glad. If they are not, it doesn't matter. We know we are beautiful. And ugly too." (source: Poetry Foundation)