Steely Pan Steel Band: History
The Steely Pan Steel Band Story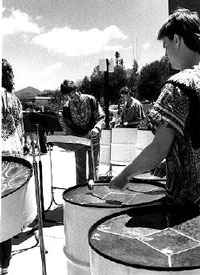 Because of the love for steel band music and the lack of funding, Dr. Scott Meister and several of his percussion students began the process of making their own steel drums in the fall of 1984. A truck load of 55 gallon orange juice barrels, donated by the Carolina Dairy of Shelby, NC., was delivered to the School of Music In mid-September. With the help of Pete Seeger's book on making steel drums and John Nedd, an Appalachian State University soccer star from Trinidad, the enormous project of building a steel band began in September of 1984.The sinking and grooving took place outside the School of Music and many complaints concerning noise were heard from professors in adjacent buildings. All of the percussion students participated in sinking using 12 and 10 pound sledgehammers. Dr. Meister and his graduate assistant, Richard Cox, did all the grooving and shaping of the notes. Because of university fire regulations the drums had to be burned over an open fire at Dr. Meister's home. Many drums were thrown away because of cracking during sinking and damage during tuning. After weeks of Dr. Meister's tuning, the first set was finally completed. This consisted of a tenor, double seconds, triple cello, and a set of tenor bass. The ensemble gave their first concert on the steps of the Broyhill Music Center in March of 1985. The drums were very crude, but were in tune. The band was able to play two tunes, "Mama Look A-Boo-Boo" and"Calypso Band". Barrels were obtained anywhere Dr. Meister or his students could find them. Several of the newer barrels that seemed to work well for basses were paint and ink barrels donated from the American Wicker Co. The original finished pans were painted bright yellow, but since they were "used", many of them had dents and other imperfections. For that reason, red and black paint was randomly thrown and dripped on the barrels in order to hide the dents as well as add an abstract design to the pans. This has become a trademark of the Steely Pan Steel Band.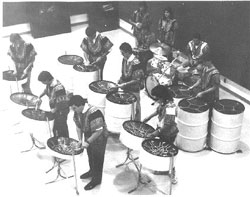 In the fall of 1985, Jim Strose, a maker and tuner from Trinidad, visited the campus on his way back to the island from a tuning job in New York. Jim showed Dr. Meister and his students new patterns and some newer techniques in making and tuning the drums. From then on, new drums were made using the new patterns and designs. Dr. Meister also learned of Mr. Ellie Mannette,"the father of the steel drum", and in the following year with graduate Assistant Richard Cox, he visited Mr. Mannette in Perry, Georgia for two days. From this experience, Dr. Meister was able to fine-tune his making and tuning techniques and the band was able to begin to perform publicly. Since the beginning, over 75 steel drums have been made and as new instruments were completed the older ones were discarded.
Each year, Dr. Meister took students to Trinidad and Tobago in February to observe the Panorama competitions and further his research of steel drums. During the summer of 2003, he taught an Appalachian State University study abroad course at the University of the West Indies, Trinidad. Several of his students accompanied him and studied the culture and music of Trinidad and Tobago. Many of the alumni of the band are directors of their own steel bands at public schools and universites.
Dr. Meister retired in 2014. We are very greatful for his many contributions, and plan to keep SPSB thriving. The band has grown to twenty-two players with forty-two pans, and has a very active performance schedule during each school year.