Clarinet
Apprentice
Meredith Bryan, clarinet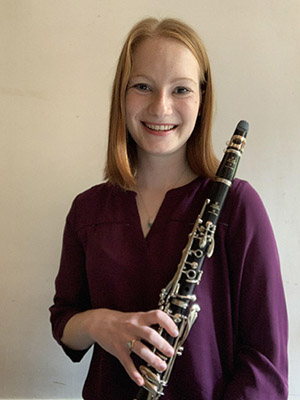 Meredith Bryan is an Instrumental Education major at Appalachian State. She currently studies clarinet with Dr. Soo Goh. During her time at Appalachian State, Meredith has had the privilege of performing with the Concert Band, Clarinet Ensemble, Symphony Band, Wind Ensemble, and Symphony Orchestra. She serves as a squad leader for the clarinet section for the Marching Mountaineers. Meredith has also performed in various chamber groups ranging from woodwind trios to woodwind quintets, receiving coaching from Dr. Alicia Chapman, Dr. Soo Goh, and Dr. Melisse Brunet.
Meredith believes music is a tool for empowerment, connection, and passion. She strives to instill a confidence in her students through playing clarinet that will transfer to their everyday lives. Her hope is that her students will develop a connection with music that will create a passion for more and a love for music similar to hers. Outside of music, Meredith loves reading, pets, and watching movies.
Taylor Alley, bass clarinet
Taylor Alley is an Instrumental Music Education Major at Appalachian State University. She is from Madison, NC where she went to Dalton L. McMichael High School. Taylor has had the privilege to study clarinet with Dr. Soo Goh in the Hayes School of Music and has participated in the Appalachian Wind Ensemble, Appalachian Symphony Band, Appalachian State Marching Mountaineers, Clarinet Ensemble and National Band Association. Other than music, Taylor enjoys reading, painting, being outside and spending time with her cat.
Taylor hopes to transfer her passion for music onto others by teaching and believes that it is important that everyone has the opportunity to perform and learn more about music!