Flute
Apprentice
Clara Kempter, flute (online only)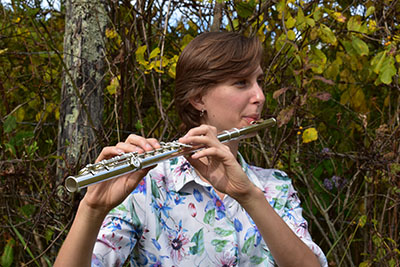 Clara Kempter is a flute performer and teacher based in Boone, North Carolina. A 2021 graduate of the Hayes School of Music at Appalachian State, Clara has studied with Dr. Nancy Schneeloch-Bingham, Catherine LeGrand, and Tara Helen-O'Connor. Clara has also performed in master classes for Catherine LeGrand and Molly Barth.
Clara's interest in flute extends into the auxiliary instruments, and they are passionate about both alto flute and piccolo. Their time at Appalachian State also provided opportunities to study the Baroque and Irish flutes, instruments which have provided both musical and technical insights into playing the modern concert flute.
Clara's love of music rooted in the power of connecting with others through music. Clara believes that ensemble playing offers a profound opportunity to connect both with an audience and with musical colleagues. They have performed with university orchestras, chamber groups, and wind ensembles at Appalachian State and Bard Conservatory of Music, as well as community ensembles in Durham and Chapel Hill. Clara has also played in student orchestral and chamber groups in Seoul, South Korea and Mannheim, Germany, and hopes to continue to use music as a tool to connect across language barriers.
All of these experiences have contributed to Clara's teaching style, which emphasizes listening and building technical skills which help in playing with other people. They believe that playing the flute is something which, when done with care and thought for the sound and the music, can offer a bridge between one's self and one's community.
In addition to flute, Clara is fascinated by the natural world; they also studied biology at Appalachian State, focusing primarily on lichenology. Clara enjoys outdoor activities like hiking and whitewater kayaking.