Guitar/Ukulele
Professional
Robert Wuagneux, guitar and music theory (online only)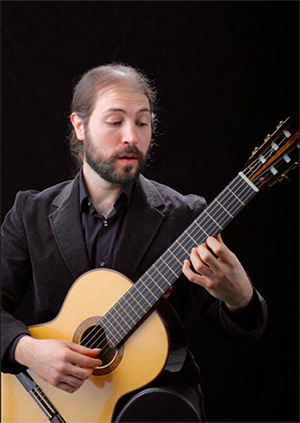 Robert Wuagneux has been equally at home in the performance and instruction of classical, jazz, and popular styles of guitar for over a decade. As a classical guitarist, Robert has given recitals at venues in Sorrento, Italy, New York City, and Los Angeles, to name a few. As a guitarist in popular styles, Robert has been featured on a number of albums ranging from indie rock to bluegrass. See below for links to samples.
Robert holds a master's degree from Appalachian State University (2015) as a student of Dr. Douglas James and is a recipient of the Cratis D. Williams Award for Outstanding Graduate Students. Currently, Robert is a PhD candidate in music history and theory at Stony Brook University in New York. His research focuses on analysis of music in just intonation, as well as the music, affect, and cultural phenomenon of Phish.
https://taylorackley.bandcamp.com/album/hard-tellin
https://kongmustdead.bandcamp.com
Master
Jenna Kyber, guitar/ukulele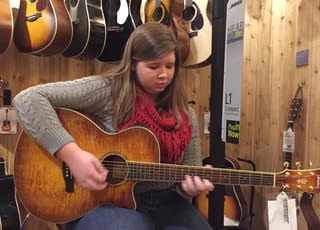 Jenna Kyber, from Greenville, SC, is a second-year graduate student pursuing her Equivalency and Master's Degree in Music Therapy. She graduated with her BA in Music from Winthrop University in 2019, where she studied jazz guitar, completed a secondary study in piano, and minored in business administration. Combining her guitar and music therapy backgrounds, Jenna travelled in 2020 to present a Jazz Guitar seminar at the Southeastern Region American Music Therapy Association annual conference. Before coming to App State and turning her focus to music therapy, she performed with Winthrop's Jazz Guitar Ensemble, the Winthrop Chorale, and accompanied many student recitals. She even travelled with the Chorale to perform in Carnegie Hall in 2019. In her free time she was an active officer of Winthrop's chapter of Sigma Alpha Iota. Jenna has taught music lessons since 2014, and has training in percussion and ukulele in addition to her Winthrop guitar and piano studies.
Tanner McAteer, guitar/ukulele
Not accepting students for Summer 2022
Bio coming soon! Tanner is a recent graduate from the MM Performance degree in Music.