Guitar/Ukulele
Professional
Robert Wuagneux, guitar and music theory (online only)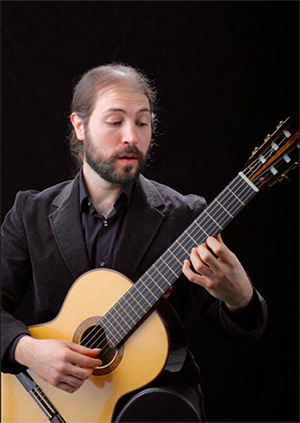 Robert Wuagneux has been equally at home in the performance and instruction of classical, jazz, and popular styles of guitar for over a decade. As a classical guitarist, Robert has given recitals at venues in Sorrento, Italy, New York City, and Los Angeles, to name a few. As a guitarist in popular styles, Robert has been featured on a number of albums ranging from indie rock to bluegrass. See below for links to samples.
Robert holds a master's degree from Appalachian State University (2015) as a student of Dr. Douglas James and is a recipient of the Cratis D. Williams Award for Outstanding Graduate Students. Currently, Robert is a PhD candidate in music history and theory at Stony Brook University in New York. His research focuses on analysis of music in just intonation, as well as the music, affect, and cultural phenomenon of Phish.
https://taylorackley.bandcamp.com/album/hard-tellin
https://kongmustdead.bandcamp.com
Master
Rob McCormac, guitar
Robert (Rob) McCormac, originally from Asheville, NC, lives a musical life in the broadest sense. As a performer, Rob specializes in acoustic music traditions of the American South, and performs with the Billboard charting bluegrass band, Cane Mill Road, which was recently named the "Momentum Band of the Year" by the International Bluegrass Music Association. In this capacity, Rob has performed throughout the United States and Europe at notable festivals and venues ranging from Merlefest (NC) to the Berklee Performing Arts Center (MA). As a scholar, Rob fluidly navigates between the fields of music theory and ethnomusicology. His academic interests include old-time and bluegrass music, the cultural history of Appalachia, historiography, musical participation, genre theory, the Highlander Folk School and Black Mountain College, and music theory/music history pedagogy. Rob has presented his scholarship at conferences for regional organizations including the South Central Society for Music Theory, College Music Society (Southern Region), and the Appalachian Regional Commission Teaching Project, and has been accepted to national conferences for the College Music Society, Appalachian Studies Association, and the Pedagogy into Practice conference.
Rob completed his undergraduate studies in Music Performance at Appalachian State University's (ASU) Hayes School of Music. He consequently received both a Master of Music in Music Performance and a Master of Arts in Appalachian Studies (Culture and Music) from ASU. During this period Rob also completed the graduate certificate in Music Theory Pedagogy and Technology as part of the inaugural cohort. Cane Mill Road is proudly sponsored by Deering Banjos, GHS Strings, Shubb Capos, Sorensen Mandolin & Guitar Company, Kogut Violins, NS Design, and Fishman Amplification. Rob personally plays guitars made by Ken Hooper of Elkin, NC.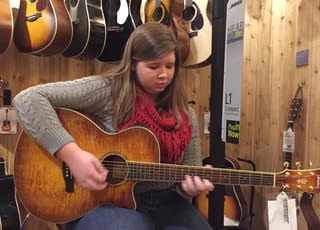 Jenna Kyber, guitar/ukulele
Limited availability for new students this Spring
Jenna Kyber, from Greenville, SC, is a second-year graduate student pursuing her Equivalency and Master's Degree in Music Therapy. She graduated with her BA in Music from Winthrop University in 2019, where she studied jazz guitar, completed a secondary study in piano, and minored in business administration. Combining her guitar and music therapy backgrounds, Jenna travelled in 2020 to present a Jazz Guitar seminar at the Southeastern Region American Music Therapy Association annual conference. Before coming to App State and turning her focus to music therapy, she performed with Winthrop's Jazz Guitar Ensemble, the Winthrop Chorale, and accompanied many student recitals. She even travelled with the Chorale to perform in Carnegie Hall in 2019. In her free time she was an active officer of Winthrop's chapter of Sigma Alpha Iota. Jenna has taught music lessons since 2014, and has training in percussion and ukulele in addition to her Winthrop guitar and piano studies.