Voice
Professional
Dr. Jake Taylor, Assistant Professor and Director of Choral Activities at the Hayes School of Music
Master
Madeline Hamrick, voice (online only)
Soprano, Madeline Hamrick holds a Master of Music in Vocal Performance from the University of Tennessee and a Bachelor of Music in Vocal Performance from Appalachian State University. She has performed operatic roles such as Pamina in Mozart's Die Zauberflöte, Micaela in Bizet's Carmen, Arminda in Mozart's La finta giardiniera, Ludmilla in Smetana's The Bartered Bride, and Marcellina in Mozart's Le Nozze di Figaro. In 2018, Madeline attended the American Institute of Musical Studies in Graz, Austria where she sang in excerpts from Puccini's La Bohéme in the role of Mimì with the AIMS Festival Orchestra.
While attending the University of Tennessee and working as a Graduate Teaching Assistant, Madeline developed a passion for teaching voice. She believes that a pedagogical approach to vocal technique, a deep understanding of the text, attention to musical details, and freedom of self-expression is what enables singers to create beautiful art and to communicate with audiences in a meaningful way. Madeline's students are guided in a unique way that is specific to their individual needs and goals, regardless of experience level or age.
A current resident of Winston-Salem, Madeline enjoys hiking, dancing, and spending time with her cat, Ellie.
Amber Joy Koeppen, voice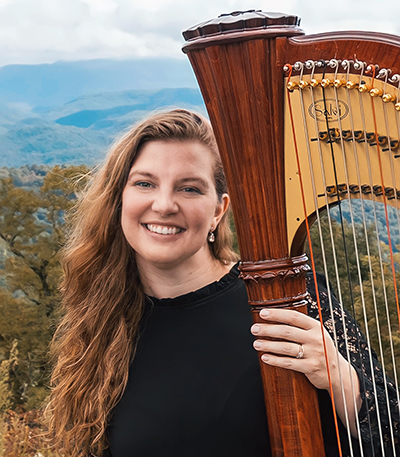 Amber Joy Koeppen (Carpenter), Instructor of Harp at the Hayes School of Music, is a harpist and vocalist and an avid teacher in both disciplines. She has received degrees in Harp Performance and Vocal Pedagogy from UNC Charlotte and a Masters in Music from the University of Michigan.
As a solo performer, she has been a prize winner in a number of national and international harp competitions, including being awarded First Place in the Rosen-Schaffel Competition for Young and Emerging Artists. As a recipient of this award, she has twice been a guest concerto artist with the Eastern Music Festival Orchestra under the direction of Gerard Schwarz. In addition to her extensive solo work, Mrs. Koeppen has also performed with the New York City Ballet, the Battle Creek Symphony Orchestra, the Charlotte Symphony Orchestra, and the Union Symphony Orchestra, as well as various chamber groups. She has performed across the United States and abroad, including the World Harp Congress in Sydney, Australia, and has lectured at the WAAE music education conference in Auckland, New Zealand.
Mrs. Koeppen also maintains an active teaching career. She has taught at various summer music programs including Interlochen Center for the Arts and the American Harp Society's Camp Innovation, and she has helped to found and run Brush Strokes and Music Notes' summer program for children which incorporates a diverse body of students from various backgrounds in a week of arts and music immersion. She has been the Music Director and a member of the vocal and harp faculty of GreenSpring International Academy of Music and also has a private music studio offering harp and voice lessons to both children and adults. Her students are active musicians who have been accepted into notable music programs, performed in venues such as the White House and Biltmore Estate, and have been prize winners in solo competitions.
Apprentice
New Apprentice voice instructors coming this Fall!