Piano - Community Music School
Professional
Master
Tatiana Wright, piano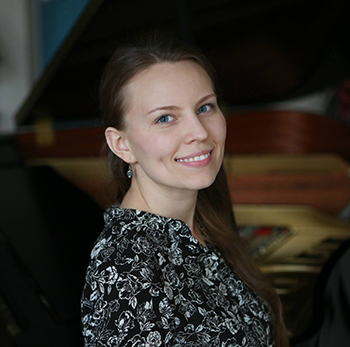 Tatiana Wright is a Russian-American classical pianist with a passion for music education. She is a graduate of Appalachian State University where she received her Master's degree in Piano Performance under the tutelage of Dr. Rodney Reynerson. Before moving to Boone to finish her studies, Tatiana lived and worked in Winston-Salem, NC with her husband, whom she met at UNC School of the Arts while both of them were working on their undergraduate degrees in music performance. Tatiana has been teaching private piano lessons for over a decade and has helped students of all ages and skill levels to reach their musical goals. With her warm, supportive teaching style and individual approach, Tatiana is committed to helping all her students achieve their full musical potential.
As part of her music career, Tatiana enjoys working part-time at Hayes School of Music teaching a Class Piano course, accompanying instrumentalists and voice students, and performing solo and chamber music. She is busy participating in various concerts and events throughout North Carolina, and is holding a pianist position at First Baptist Church of Boone.
Tyler Dellaperute, piano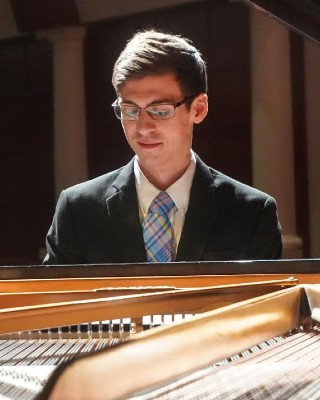 Tyler Dellaperute enjoys a diverse career as a collaborative pianist, jazz musician, music instructor, and piano tuner. A classically-trained pianist from Little Egg Harbor, NJ, Tyler has performed virtuosic repertoire from Rachmaninoff's Second Piano Concerto to Beethoven's Appassionata. Tyler has extensive experience as a collaborative pianist, having accompanied a variety of large ensembles, chamber ensembles, instrumentalists, and vocalists. Tyler's interests also include music theory and jazz improvisation.
In addition to his role as private piano teacher at the Community Music School, Tyler is currently serving as an accompanist and group piano instructor at the Hayes School of Music. He primarily teaches intermediate and advanced students. As a music teacher, Tyler prioritizes musical fluency, community, and diversity.
Allison Bishop, piano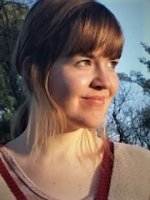 Limited availability for new students this Spring
Pianist Allison Bishop received a bachelor's degree in piano performance from the University of North Carolina at Greensboro, where she studied with Dr. Joseph DiPiazza, Dr. Andrew Willis, and Dr. Inara Zandmane. After graduating, Allison moved to Asheville to teach piano full-time as well as pursue other musical performance opportunities. Allison has recently completed a Master's Degree in piano performance at Appalachian State University, studying with both Dr. Bair Shagdaron and Dr. Rodney Reynerson. Allison made it to the final round in the school's Concerto-Aria competition during the fall semester and was a finalist in the 2018 Rosen-Schaffel Competition.
Experience:
Instructor, CMS
Accompanist, Appalachian State University
Accompanist, BUUF
Instructor, Piano Lab, Asheville, NC
Education:
BM in Piano Performance, UNC-Greensboro
MM in Piano Performance, Appalachian State University
Teaching Philosophy:
As an instructor of piano, my aim is to encourage each student to grow at their own pace and with their own goals ahead of them. I believe in establishing a solid musical foundation for each student, but also in allowing there to be room to explore and create without added pressure. I closely collaborate with my students in the process of discovering the music that is already inside of them, and love watching them learn without even realizing it!"
Apprentice
Brittney Woolbright, piano
Limited availability for new students this Spring
Brittney Woolbright began taking piano lessons in her hometown of Martinsville, Indiana when she was nine years old. While growing up, Brittney competed in multiple Indiana State School Music Association competitions and earned multiple gold medals for solo piano performances and accompaniments. Her higher education began in 2017 at Purdue University Fort Wayne as a music therapy major after receiving a scholarship for piano performance. In 2018, Brittney moved to Hawaii and started her own piano studio where she taught multiple kids. She also became involved in Hospice Hawaii's therapeutic music program, where volunteers were encouraged to visit with patients and engage in a meaningful musical experience together. In 2020, Brittney moved to Boone, North Carolina to resume schooling. She obtained an Associate in Fine Arts Music degree from Caldwell Community College and Technical Institute. Presently, she is studying music therapy as an undergraduate at Appalachian State University. She studies piano under Dr. Bair Shagdaron.
Teaching Philosophy: I have aspirations to find a career that allows me to use music as a medium to educate, unite, uplift, and bring healing to others. My goal in teaching is to build a solid musical foundation in children so that they can not only have a new skill set, but a constructive and creative outlet that brings them joy.
Lydia Rudd, piano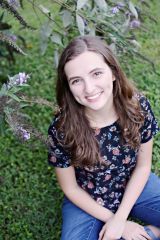 Limited availability for new students this Spring
Lydia Rudd is a student at Appalachian State University and is pursuing her bachelor's in Music Therapy, and a Piano Performance Certificate. She started taking piano lessons at the age of 5 with Yelena Eckemoff, and is now studying with Dr. Rodney Reynerson. Lydia has performed as a solo pianist, accompanist, and church musician. In her free time, she enjoys hiking, reading, cooking and baking.
Music Experience
CMS Instructor

Accompanist, Appalachian State University

Church Pianist, Cary NC
Teaching Philosophy: As someone who has been a piano student for over 15 years now, one of my main goals in teaching is to create a space where students can find joy in learning and playing piano. I work through the foundational techniques of piano with students, but want them to be able to apply it to the music and projects that they are passionate about. In each lesson, I try to meet students where they are, ask questions, and encourage them to feel free to ask questions that will help them through their learning process.