Violin
Master
Clement Edet Okon, violin
Clement Edet Okon is a dedicated and passionate Nigerian violinist pursuing his Master of Music Performance degree on the violin. He started playing the violin at the age of 16. He received his Bachelor of Arts degree in Music (with a major in the violin) from the University of Uyo, Nigeria and graduated with a First-class distinction. He played for the Hope Waddell Society of Music Orchestra from 2013-2022 and was the concertmaster for the orchestra from 2017-2022. He was also a violin instructor at the HOWASOM School of Music, Calabar, Nigeria, from 2015-2022. He has worked as a violin instructor at Dolce Music Academy, Bonny Island NLNG. He has also taught violin privately over the past 6 years. A great percentage of the current violinists at Hope Waddell Society of Music Orchestra are Clement Edet's students. He has played for the KKB Philharmonic Orchestra, SBO Chamber Orchestra, and Ibom Orchestra. He has participated in masterclasses with Dele Olutade (2016) and Kehinde Davids (2017). Clement is also a composer and an arranger. He has specialized over time in arranging and hybridizing African folk music for the western orchestra. While at the Hayes School of Music, Clement Edet plays for the Symphony of the Mountains in TN.

Teaching Philosophy: I see music as the most beautiful aspect of life and I am always happy to help people (of all ages) grow who want to learn and make music. I patiently guide them and keep them motivated. I see all my students as golden eggs and ensure that I employ all suitable pedagogy skills to hatch them to success. I help my students with their sectional orchestra pieces, their chamber pieces, and also guide them success in auditions and solo performances.
Kelsey Philbrick, violin (online only)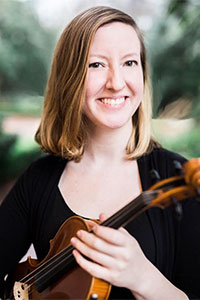 Violinist Kelsey Philbrick currently resides in Greensboro, NC and maintains an active teaching and performing career. Kelsey began learning the violin through the Suzuki Method at the age of eight. She continued her studies in solo, chamber, and orchestral music through the Duke University String School. Kelsey went on to receive a Bachelor's degree in violin performance from UNC-Greensboro, where she studied with Dr. Fabián López. Kelsey then taught private violin lessons in Chapel Hill for a year while preparing for graduate school auditions. She attended Appalachian State University for her Master's in violin performance, receiving instruction from Dr. Nancy Bargerstock and playing as a graduate assistant in the Hayes Graduate String Quartet. After graduating, Kelsey accepted a contract to start teaching violin as an Adjunct Professor at ASU. Kelsey also maintains an active symphony performance schedule, playing as Assistant Concertmaster with the Western Piedmont Symphony and first violinist with the Symphony of the Mountains, among others.
Experience:
Adjunct Professor of Violin, ASU
Violin Teaching Artist, ASU-CMS
Violin Instructor, Chapel Hill School of Musical Arts
Education:
Teaching Philosophy:
I greatly enjoy being able to see the growth of each student over time as they practice, play for me in their lessons, and perform. I try to find what each student needs in order to help them understand concepts, and I strive to provide various scales, exercises, and music reading tools to help with their technical progress. In addition to guiding them with solo music, I also enjoy assisting my students with orchestral music and with preparing to participate in various outside events. I believe that practicing not only increases your musical capabilities, but also strengthens your abilities to learn and grow in other areas.