Violin
Professional
Dr. Maria Kindt, violin/viola
Maria Kindt, originally from Vilas, NC, started learning Suzuki method violin at the age of 3 in Boone. Her parents are both accomplished classical musicians who saw the value of music education and imparted this reverence to all of their children.
Maria began her higher education at the University of North Carolina @ Greensboro. In 1999, she won the NCASTA competition. After taking some time off of school, she moved back to Boone and completed her bachelors degree at Appalachian State University, studying under Dr. Eric Koontz. She won the concerto competition and soloed with the ASU orchestra on viola. Maria completed her masters' degree at Ohio University in viola performance, as a graduate assistant in the OU string quartet. In 2019, she received her doctorate at UGA, Athens, GA, in viola performance, where she was also on assistantship in the graduate string quartet. Maria is registered through Book 4 in the Suzuki method for violin.
Interest in the physical aspects of tone production and acoustical science inspired her dissertation topic. Entitled "Listening to String Sound: A Pedagogical Approach to Exploring the Complexities of Viola Tone Production," her dissertation highlights the benefits of practical acoustical knowledge for string teaching practices to improve playing technique, tone production, and listening skills. Her research includes aspects of current physical science and psychoacoustics, combined with spectral analysis examples, exercises, and sound recordings for potentially furthering awareness in pedagogical settings.
During her time at UGA, as well as working on her doctorate and teaching privately, she homeschooled her son for 2 years. She created and taught Found Sound classes at Duke TIP @ UGA and around the community for children based around improvisation and acoustical science, collecting found objects to construct instruments and recording their original compositions on GarageBand. She founded and organized Athens' first chapter of Classical Revolution (a free monthly classical concert brought to the community in the relaxed atmosphere of a bar or restaurant). She also began a solo music project called Small Science and has released three albums, two of which she recorded and edited herself.
Maria has performed and taught professionally for many years. While retaining a deep love for classical music, she spent many years exploring other genres and has a deep appreciation for the art of improvisation. She has performed with various artists and projects including the Mannheim Steamroller Orchestra, Transiberian Orchestra, Family and Friends, Kishi Bashi, and members of Big Star and REM. She has recorded music for the video game Destiny 2, Family and Friends, Killick, and Cindy Wilson of the B52s, as well as many others. In 2019, she moved back to Boone with her son, due to her immense love of the mountains and to be closer to her mother. She currently plays with the Western Piedmont Symphony, the World Wide Acoustic Quartet, Djangover (Hot Club of Lenoir) and freelances around the state. In her free time, she enjoys being in nature, spending time with her son, Oliver, reading, gardening, arts and crafts, and working on her solo music project.
Maria's Teaching Philosophy
Music has been an integral part of my life as long as I can remember. I am convinced that every human needs music in their lives in some capacity. I desire to enrich peoples lives through music. I have seen the benefits of learning an instrument in everyone I have ever taught, ages 2-87, including my own son. Music learning builds confidence, coordination, discipline, focus, the ability to express oneself, and connects the two hemispheres of the brain like no other practice is capable of doing.
I am certain if we teach our kids music, they will gain infinite life skills which will help them to pursue their dreams and make the world a better place. After working on a doctorate, I discovered my passion for working with children and helping them to find their own voice in a noisy world. Music is more than play, more than an extracurricular activity. Music produces empathic, thoughtful humans with the ability to communicate through sound.
Master
Kelsey Philbrick, violin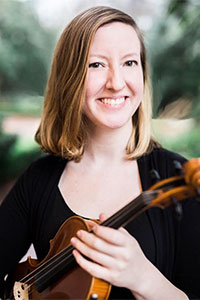 Violinist Kelsey Philbrick currently resides in Greensboro, NC and maintains an active teaching and performing career. Kelsey began learning the violin through the Suzuki Method at the age of eight. She continued her studies in solo, chamber, and orchestral music through the Duke University String School. Kelsey went on to receive a Bachelor's degree in violin performance from UNC-Greensboro, where she studied with Dr. Fabián López. Kelsey then taught private violin lessons in Chapel Hill for a year while preparing for graduate school auditions. She attended Appalachian State University for her Master's in violin performance, receiving instruction from Dr. Nancy Bargerstock and playing as a graduate assistant in the Hayes Graduate String Quartet. After graduating, Kelsey accepted a contract to start teaching violin as an Adjunct Professor at ASU. Kelsey also maintains an active symphony performance schedule, playing as Assistant Concertmaster with the Western Piedmont Symphony and first violinist with the Symphony of the Mountains, among others.
Experience:
Adjunct Professor of Violin, ASU
Violin Teaching Artist, ASU-CMS
Violin Instructor, Chapel Hill School of Musical Arts
Education:
Teaching Philosophy:
I greatly enjoy being able to see the growth of each student over time as they practice, play for me in their lessons, and perform. I try to find what each student needs in order to help them understand concepts, and I strive to provide various scales, exercises, and music reading tools to help with their technical progress. In addition to guiding them with solo music, I also enjoy assisting my students with orchestral music and with preparing to participate in various outside events. I believe that practicing not only increases your musical capabilities, but also strengthens your abilities to learn and grow in other areas.